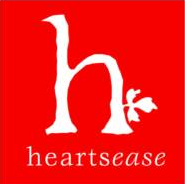 welcome

Our mission is to offer a wholesome alternative to the mass-produced lines on the commercial market.
What began as an all-natural soap company has evolved into a complete luxury line that reflects our concern for what is put on the skin after it has been gently cleansed by heartsease soaps. We feel that using any chemically-laden product defeats the purpose of using a natural soap.
We are committed to using only natural ingredients of the finest quality, creating products that are unspoiled by chemicals, synthetic scents, or dyes. We use no animal products and, of course, do not test any of our products on animals.
We believe in individual and corporate responsibility for sustaining the environment. We give a portion of sales to projects we believe in and support a number of charities.
To find out more about our products, visit the Pages on the right-hand side.
* please note that this website is a work in progress and we are updating,  correcting, and editing daily.