FACE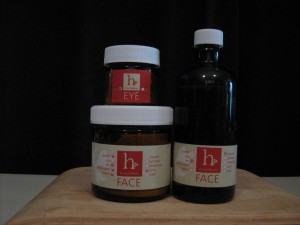 Facial Moisturizer 
 Created to rehydrate and protect dry or mature skin, this cream contains    essential oils of rose, palmarosa, lavender, rosemary and sandalwood in an emulsion of  rose hydrosol and fine vegetable oils (sweet almond, jojoba, sesame, grapeseed, castor , and shea butter) to rejuvenate and protect the skin.  May also be recommended as a night cream for normal skin.
Light Facial Moisturizer
This moisturizing contains the very lightest blend of vegetable oils ( grapeseed, hazelnut, borage) to lightly hydrate combination or oily skin without blocking pores.  With French green clay, lightly antiseptic tea tree hydrosol, and essential oils of lemon, lime, lemongrass, basil and geranium.  This also works well as a day cream under makeup and a good cream to recommend for normal skin.
Exfoliating Facial Scrub
To brighten all skin types.  Use once weekly.  Mix a small amount in the palm with enough water or hydrosol to reach the desired consistency.  With freshly ground organic oatmeal, cornmeal, lavender flowers, and chamomile; and essential oils of lavender and eucalyptus.  Oily and sensitive skin types should use a higher ratio of water to scrub.
For a special treat mix with honey, scrub gently over face and neck, then leave on for 20 – 30 minutes- preferably while you relax in a warm bath. Rinse off.

Facial Cleansers
Shake well before using, then apply with a cotton pad.
These cleansers clean and tone the skin without harsh irritants.
For dry skin:  with aloe vera, rose hydrosol, jojoba, vitamin e, vegetable glycerin, rose essential oil
For normal skin :   with aloe vera, neroli hydrosol, jojoba, vitamin e, vegetable glycerin, geranium essential oil
For oily skin :  with witch hazel, lavender hydrosol, jojoba, vitamin e, vegetable glycerin, lavender essential oil
Gentle Eye Balm
 This is a fabulous eye cream.  The 25g pot lasts forever.  Everyone should be using it, especially those worried about aging (who isn't?), especially in our dry climate. With cold-pressed oils of avocado, hazelnut, borage, and carrot, among others. This product has actually been recommended by doctors to help relieve dry itchy eyelids!
Face Soaps
Oatmeal & Honey  – for sensitive skin
RooibosTea -for dry skin ,with rooibos tea and geranium,  lavender and myrtle essential oils  
Geranium – for all skin types 
Cucumber & Aloe – for combination skin , with fresh cucumber, aloe vera, lavender, tea tree, and palmarosa essential oils                                                                                                                                                    Green Clay – for oily and troubled skin , with French green clay, eucalyptus, lavender, lemon,  peppermint and tea tree essential oils