SOAPS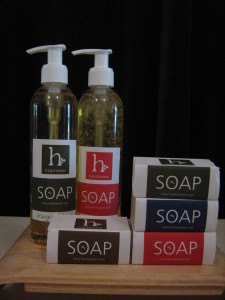 Our soaps are handcrafted from the finest saponified olive, palm, coconut, castor bean oils and shea butter.  Enriched with pure plant and flower extracts, natural botanicals, and essential oils, these luxury soaps are mild, non-drying, and last longer than commercial soaps.
A Brand New Start
with oatmeal, cinnamon,spearmint,sweet birch e.o.'s
slightly exfoliating & refreshing scent
A Hint of Clove
with clove, geranium, peppermint e.o.'s
warm & soothing
All That Jazz
with jasmine, orange, vetiver e.o.'s
Avocado & Lime
with real avocado, rich in amino acids & key lime e.o.
Blueberry
with organic blueberries, lemon,vanilla e.o.'s
Castile
pure olive oil soap, mild and old-fashioned
Chocolate Ripple
with cocao, cocao butter, vanilla e.o.
just like the ice cream
Cinnamon Girl
with ground cinnamon, cinnamon, clove, vanilla e.o.'s
Cook's Soap
a kitchen soap with freshly ground coffee
removes the smell of onion, garlic and fish from hands and cutting boards
Cranberry
with fresh cranberries & orange e.o.
Deodorant Soap
with antibacterial palmarosa, patchouli, orange e.o.'s
Earl Grey
with earl grey tea, bergamot, lemon, lime e.o.'s
Eucalyptus Spearmint
stimulating, a great shaving bar
Gardener's Soap
with cornmeal, peppermint leaves, lemongrass, peppermint e.o.'s
Gin & Tonic
with juniper berry, lime e.o.'s
Ginger Lime
Granola
with granola, honey, cinnamon, orange, vanilla e.o.'s
Green Tea
with green tea, ceadarwood, fennel, grapefruit, lemongrass e.o.'s
Holiday Spice
swirled with ground cinnamon & cloves
with cinnamon, clove, orange, peppermint e.o.'s
Lavender
Lavender Eucalyptus
Lavender Oatmeal
Lavender Vanilla
Lemon Poppyseed
Madagascar
with cedarwood, cinnamon, lemongrass, orange, patchouli e.o.'s
one of our most popular aromas
Morning Sun
with safflower petals, cedarleaf, geranium, lavender, orange e.o.'s
Neem
with healing neem oil, good for eczema & psoriasis
Oatmeal Cinnamon
Orange Geranium
a lovely rippled soap
Orange Vanilla
Patchouli
Peppermint Vanilla
Pomegranate
with pomegranate seeds, honey, ginger, orange e.o.'s
Sage
with dalmation sage, clary sage, lemon, orange e.o.'s
Spiced Apple
with fresh apple, grated nutmeg, cinnamon, clove, nutmeg e.o.'s