BODY BALMS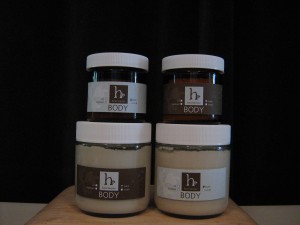 Our body balms are rich emulsions of fine vegetable oils (olive, grapeseed, jojoba, castor), shea butter, hydrosols, vegetable glycerin, vitamin e, beeswax, and essential oils that soothe and soften the skin. The chocolate balms have cocoa butter in place of shea butter.
70 grams – $18.00
170 grams – $36.00

Chocolate
Chocolate Mint
Chocolate Orange
Chocolate Vanilla.
Green Tea with green tea and the essential oils of fennel, grapefruit, cedarwood, & lemongrass 
Jasmine

Lavender
French lavender essential oil in this balm offers solace to all skin types, particularly those suffering from ecxema or overexposure to sun and wind.
Lavender Vanilla
warm & seductive
Madagascar an exotic blend of cinnamon, sweet orange, lemongrass, patchouli and cedarwood
Morning Sun
with lavender, geranium, sweet orange, cedarleaf essential oils

Neroli with neroli, petigrain, orange essential oils

New Day
with geranium, orange, ylang ylang essential oils

Orange Vanilla
Rose Vanilla